2010 Silverman Ironman
If you have not heard of the Silverman Race, it is one of the most difficult Ironman courses in the World. They brand it as "The Most Grueling Ironman in the World." It is an independently run Ironman distance race. It consists of the same 2.4 mile swim, 112 mile bike ride, and 26.2 mile run as other Ironman races. The race is held in Lake Mead National Recreation Area and Henderson, Nevada. These are both just outside of Las Vegas. Needless to say it is in the desert. Fortunately they are nice enough to hold this race in early November while the temperatures are not as brutal as during the summer. The swim is held in a manmade lake called Lake Las Vegas. It is a long narrow lake with hotels and homes along the sides. Once you are done swimming the fun begins. The bike course takes you out into Lake Mead Recreational Area. You are out there until about mile 90 and then head back into Henderson for the run. The bike course does not have any flats, you are either going up or down. There is almost 10,000 feet of climbing on the bike course and a net 700+ foot gain. The run portion of the course is not much easier. It is run in the city of Henderson and consists of two loops. Henderson is built on a hill above Las Vegas and the course alternates between going up and down that hill for a total of 1700 feet gained over the marathon. Even though all Ironman Races are tough, this one has a little extra.
Swimming in Lake Las Vegas
Now for my race, it truly was an adventure. Earlier in the year I raced in the Eugene Marathon which went really well and led into my training for this race perfectly. I felt like I had good training leading up to the race and was fully prepared for the difficulty. Melissa and I decided to save a bit of money and drive down to Vegas from Bend. It took two days and about 17 hours of driving to get there. The drive down was uneventful, some interesting places along the way and some section of nothing but desert. We arrived in Henderson on Friday afternoon and after getting our room, we went and checked me into the race. It had a different feeling than your typical Ironman branded race. Saturday was spent sleeping in and getting all the details lined up for the race. Heading down to T1 and dropping off my bike and gear bags and checking out the little Italian village along the lake. I actually slept pretty well the night before the big race.
Melissa and I woke up super early; one of the hardest parts about these races is the early morning. I am not a morning person. After getting some breakfast and changing into my race gear we were off to the start. Race morning was sunny, clear, and just a light wind. The race start was pretty relaxed compared to what I am used to. My other races had a frantic vibe with 2000+ people starting on the beach. The Silverman had about 200 people racing and a deep water start. The deep water start was also a different experience, treading water for a couple minutes before the start of the race. The nice thing about this start was that it was not nearly as congested at the start as the larger races are. There is no punching, grabbing, elbowing, or anything of that sort. It was really nice to get into a rhythm right off the bat instead of having to calm down a little into the race. I did not feel great during this swim, Melissa and I had put in some good training for the race but I was not feeling it on race day. I did however come in with nearly the same time as Canada, 1:21:50. In retrospect, the average time for the swim was higher than in other races I have done so compared to the field this was my best swim yet.
Upon getting out of the water I relaxed as I went through T1 figuring I was in for a tough rest of the day. Once on the bike you are immediately going uphill, this would only last a mile before heading down into Lake Mead Recreational Area. The first 30 miles of the race were an out and back section next to the lake. By all comparisons this was the flat section, but it was by no means flat. It was either up or down, but at least the winds were calm and I was feeling good. I had been trying to get as much nutrition in me as I could and thought I was doing well, I wasn't. After the 30 mile out and back section, the race course goes out another out and back section for the next 60 miles. This section is a bit farther from the lake, a bit warmer, and much more up and down.
One of the good and bad things about this race was that the roads were not closed to other vehicles. For the most part this was great because Melissa was able to leap frog me along the course and cheer me on. This was a great encouragement along the ride; I would even see the same people throughout as they were leap frogging their family and friends who were around me on the course. The negative about this was that there were cars on the course. I saw a couple of minor incidents, but nothing major. It was not until about mile 40 that my right leg started to cramp. This was the first indication of what was to come. I tried to start taking in more fluids and calories and even got the cramp to go away. Around mile 70 I started to get a headache that persisted all the way to the bike finish. Up to this point and on to around mile 85 I was still doing quite well, riding strong and exceeding my goals. The weather had topped out around 80 degrees and a strong headwind kicked up. At mile 90 I started to really feel it. My head and stomach were killing me and my energy levels were dropping. At this point we were leaving the Recreational Area and heading into Henderson.
The last 20 miles are on paved trails and through the neighborhoods of Henderson. They are also slightly uphill and into a headwind, 20 mph on this occasion. Right after you leave the highway and get on the trail you come to what are called the "Three Sisters". These are the icons of the race, three short but steep little kickers. They get bigger as you go and are one after another. They each are about 50 - 75 feet tall and 15 – 20% gradient. They are not much fun. I was fortunate to get up all three without walking which I felt really good about. Unfortunately this zapped the remaining energy I had and I was reduced to a slow grind for the next bit of trail. After a couple miles of this, I had to get off the bike and throw up. Not my favorite part of the ride but I thought back to my brother and his "puke and rally" motto. Well I did the puking part but I did not do the rallying part very well. I just plugged along for the last couple of miserable miles into town. I finished the bike ride in 7:18:54 which was pretty good considering everything. I even hit my goal but was feeling much worse than I wanted to at this point in the race.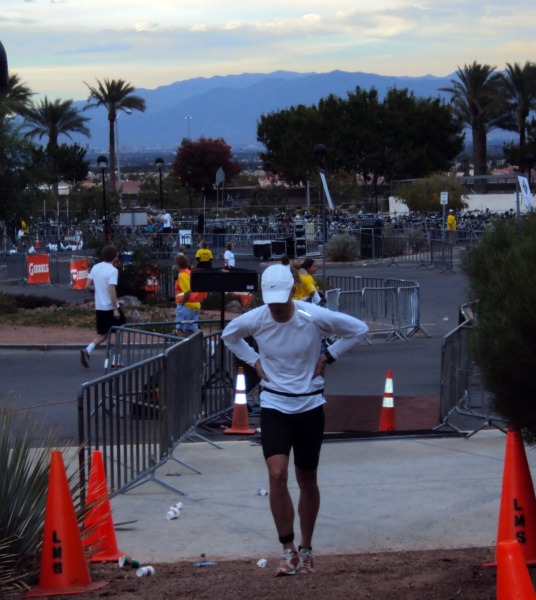 Not Feeling Good at the Run Start
I was really happy to be off my bike but worried about what was left. I had another long transition as I was trying to find anything to motivate me to keep going. I came out of T2 not feeling good and after getting up to where Melissa was, I sat down on the sidewalk for a bit. The first mile took me nearly half an hour with all the breaks I needed. After that I started to feel a bit better and mixed in some faster walking for the next 6 miles. Not moving very fast but moving. It had gotten dark by this point and I was feeling good enough to try and run for a bit. I ran the next 2 miles and that turned out to be my undoing. When I saw Melissa I started to walk again, at first fast and then slower and slower. I did not have anything left. At the middle point of the run, I took a seat and weighed my options. It took me 4 hours to do the first half and I had 4 hours left to do the second. Problem was that I was not doing as well as I was at the beginning of the run, which is saying something. After talking it through, I decided to call it quits. I did not have enough left in the tank and knew I could not finish the race. Even though this was really hard to do, I knew it was the right thing in this case.
I went to the medical tent and found out I had lost 9 pounds during the race, 5.7% of my body weight. They had to give me 2 IV's just to get me back to a functioning level. My race was going well until my nutrition derailed it again, bummer. This is something that will be my main focus before my next big race. Hopefully it will be a breakthrough PR. Melissa and I spent the next couple days down in Las Vegas seeing the sites and drove through Death Valley and Mammoth Lakes on the way home. Not quite what I hoped for from this race but a good learning experience. I highly recommend the Silverman. It is a tough race that can shake you to the core but the support is fantastic. I will be back and ready to try again in a couple of years. Hopefully some of you can toe the line as well, but as always your mileage may vary.