Bend, OR to Grayland, WA Bike Tour
Many years ago my dad stumbled onto a book called "Cold Beer and Crocodiles" by Roff Smith. He read it and really liked it so he gave it to me. It is about a guy who quits his job and bicycle tours around Australia. Ever since reading this book I have wanted to do a bike tour. Fast forward a bit to the fall of 2009 and I had just purchased an old 1991 Trek Multi-track hybrid bike off Craigslist to be used as my commuter and touring bike. I took the bike apart, repainted the frame, and rebuilt it up to make my new bike. Next was coming up with the plan for my first tour. My dad had recently moved out to the Washington coast and I figured that would be a good place to go spend a couple days. My plan was to ride from Bend, Oregon up to the Columbia River, west through Portland, and then Northwest out to the Washington Coast and my dad's place in Grayland, Washington. The route was 415 miles and I was planning on riding for 6 days, 5 nights.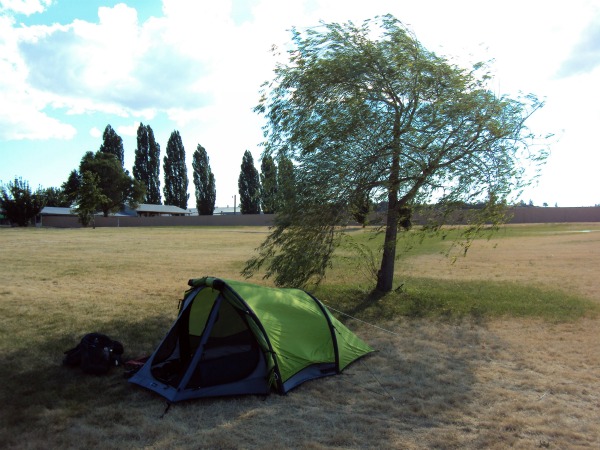 Finding the only tree's shadow
It was the end of July and the time had finally come. Melissa and I went out for breakfast in the morning and then I loaded up my bike for the trip. It was different riding a fully loaded bike. I called it my tank because there was a definite loss of agility. I left in the early afternoon and only had a 45 mile day planned. The weather report was favorable for my whole trip and this Saturday was in the upper 80's and sunny. The ride down to Madras was uneventful. The first half of the ride was along my normal bike commute to work. The bike felt pretty good at cruising speeds but it was a bit sluggish at slower speeds. I made good time even with a bit of a headwind and cruised into camp around 4 pm. I was staying at the Jefferson County Fairgrounds in Madras and had a big field all to myself. I set up camp near a tree and cleaned up in the onsite showers. I was traveling solo which gave me lots of time to myself. It also gave me lots of room in my Nemo Morpho Tent. The first night I slept well except getting woken up occasionally by the nearby gas station car wash. Honestly, who uses a car wash at 2 in the morning anyway?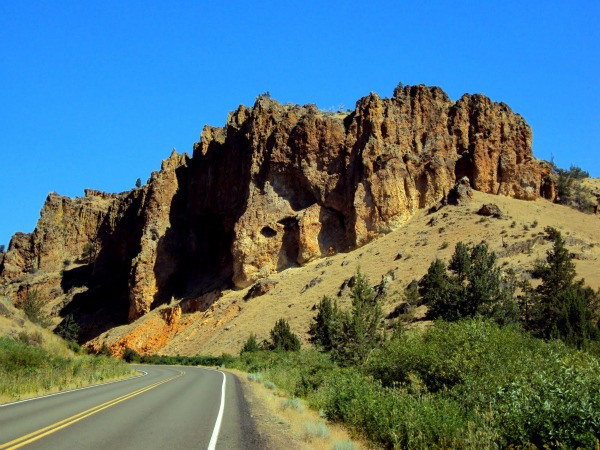 Sunday started early as I was up around 7 am. This was going to be my toughest day and I was ready to get it started. My route took me though the farms northwest of Madras, through Warm Springs, by the Kahneetah Casino, through Tygh Valley, and finishing in Dufur. This section was 85 miles with some large climbs. The morning was once again beautiful and sunny. Sunday warmed up to around 90 degrees and this took its toll throughout the day. The first climbs through Warm Springs were not too bad. The climb up out of the Kahneetah Casino area was a long twisty ascent that took a bit out of me. It was a 5 mile 1500 ft climb, normally not too tough but the heavy bike added to it. For the next couple hours the ride was fairly flat all the way into Tygh Valley. Along the way I stopped at a convenience store to refill my water bottles and grab a bite to eat. I was craving Mt. Dew and once again paid for this decision. By Tygh Valley I was spent. I had only 13 miles to go to Dufur but 6 of those was an 1800 ft climb. I took a break in the courtyard of a restaurant and tried to cool myself down. The temperature was in the 90's and I was cooked. The last bit to Dufur was a struggle; I had to take two rests up the big climb and eventually got to the Dufur Park around 4 pm. I had a nice site next to a stream that I was able to wade into and cool off. My stomach was killing me so I laid down for a bit and eventually made my way over to the local store for drinks and an ice cream bar. That ice cream bar was amazing and zapped me back into normalcy. I showered up and did some laundry and before I knew it the sun was going down. I made dinner and talked to Melissa on the phone and had another pretty good night's sleep.
Once again I was up pretty early. When sleeping outside I tend to get up much earlier than I do at home. I cruised out of town nice and early. My route for the day was 75 miles. I was riding down into the Columbia Gorge and then following the Historic Columbia River Highway to Ainsworth State Park. The ride into The Dalles had a couple rollers but was mostly downhill. I was fully recovered from the day before and feeling good. At The Dalles I noticed that the prevailing winds were blowing which meant a headwind for the rest of the day (rest of the trip). The Historic Columbia River Highway is a great ride. It is narrow but has very few cars on it. It goes along the Columbia going up and down the hillside in places. The most memorable was the Rowena Crest. A 1000 ft climb with a bunch of switchbacks. On top there were views up and down the river. From there I would go down into Mosier before going through the twin tunnels on my way to Hood River. In Hood River I was over halfway done for the day and feeling great. I met Melissa's mom at Quiznos and had lunch with her. It was a nice break and made me realize I did better with ample calories in my belly. From Hood River the route unfortunately was along the shoulder of Interstate 84. It was not as bad as I expected, the shoulder is really wide and all the traffic was respectful. I did take a back road along the way that looked like a better option than the Interstate. It turned out that this was the worst hill I encountered on the whole trip. The hill was only 520 ft of elevation gain and 1.2 miles but the heat was stifling. After the crazy hill I rode through Cascade Locks and by the Bridge of the Gods. From there the Historic Highway becomes a trail. It weaves around the Interstate and at one point you need to push your bike up some really steep stairs. This section was cooler as I was getting on the western side of the mountains now. There was a short section of road before arriving at Ainsworth State park. I set up camp back in the woods and enjoyed another hot shower. I had more time to kill on this evening so I read quite a bit of my book, "Cold Beer and Crocodiles" of course.
Ainsworth State Park Camp
Tuesday I woke up at a similar time but very different scenery. Gone were the clear blue skies I had on the previous days. I now had misty low clouds and cooler temperatures. This actually made for good riding weather. I had 90 miles to travel but it was mostly flat, only two real hills. I rode out of Ainsworth and passed a bunch of large waterfalls along the highway. Many already had tourists visiting them. I got off at Multnomah Falls to take a look but the others I just viewed in passing. The ride up to Crowne Point was another twisty ascent. There was a decent view at the top through the mist, I am sure it is amazing when clear. The descent down into the Portland area was a little cold compared to what I had experienced so far so I decided to stop and get a warm breakfast at Subway. On my way through Portland I felt okay; I was not moving quite as fast as I had hoped. I got lunch on the west side of town at a teriyaki place and rode out of town along Highway 30. There was a descent headwind again but the clouds had burned off by now so it was warm. The 45 miles from Portland on to my camp seemed to take forever. I stopped once along the way to get a Popsicle and cruised all the way to Rainier. There I picked up dinner for the night as my camp was just up the hill a couple miles. I order a small pizza and some drinks and strapped them to my bike. I am sure it was a sight to be seen with a pizza strapped to a bike rack but I wanted to eat in camp. I arrived in camp around 5 pm and set up in a large grassy area. Once again I had hot showers for the night and took full advantage. My pizza was really good, a little squished from being strapped to my bike rack but at that point I did not care. Unfortunately this night I had some loud neighbors so I did not get quite as good of a rest.
Day 5 started at a similar time. On this morning though there was a heavy mist falling. I actually had to wear by knee warmers and jacket for the first time on the trip. My route was along Highway 30 again until Westport, Oregon where I would catch the ferry to Washington and continue on Highway 4 and 101 to Bay Center. The route was to be about 80 miles. The only problem I had was that I had to catch a ferry and if I missed it I would have to wait and hour for the next one. I rode pretty hard the 20 miles to the ferry and made it just as they were loading. The Westport ferry is not large like you might imagine. At most it can hold 8-9 cars, small ones that is. On the other side I entered Washington and rode across the island to Cathlamet. There I took a break at a local coffee shop and read some more in my book. I knew from driving to my dad's that I had one big hill to climb along the way. What I did not realize that there were going to be a large stretch with virtually no shoulder. These 20 miles were my least favorite of my whole trip. At this point though the sun had burned through the clouds again and the day warmed up to the upper 60's. I took another break at a gas station and had a slushy before tackling the last 20 miles to my camp. I stayed at the KOA Campground in Bay Center that had a bike camping section. There was another gentleman who was riding the Pacific Coast Highway from Canada to Mexico. We talked for a while and he gave me some of his tips as he was much more experienced than I was. I was able to help him with some gear as he was impressed by some of the things I had brought along. This camp also had a hot shower as well which again was much appreciated. I walked out to the beach and made some phone calls before going to bed for the evening.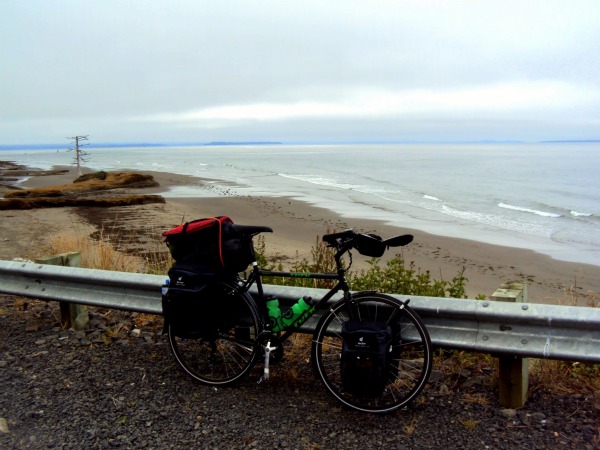 Made it to the Pacific Ocean
I woke up Friday morning to the sound of light rain on my tent. My campmate got up a bit before me as he needed to be at an appointment in Astoria by a certain time. I took my time, this being the last day of my trip. I had only 45 miles left, and it was raining slightly. I rode 20 miles into Raymond and stopped at McDonalds for a warm breakfast. These are the rare occasions where McDonalds tastes good to me. The last 25 miles are along the bay and head out to the ocean. At about mile 35 for the day I finally reached the Pacific Ocean, 405 miles from my house. I took a break and some pictures. With only 10 miles to go I made pretty quick work of it and arrived just after noon on Thursday. Overall it took me 36 hours of cycling to cover the 415 miles. The bike held up great and so did my body; but I was tired of being in the saddle for that long. There is only so much of that I can take. I planned on spending the next couple of days at my dad's and Melissa was coming out to visit as well. She was also my ride home. =) I really enjoyed the touring experience, while it was a bit lonely at times; it was interesting to just have one focus for the week. I hope I can get out for another one soon. As always, your mileage may vary.