Gregory Fury 24 Backpack
Manufacturer Description
Built for speed with stability, the Fury 24 lets you take what you need to stay on the go - an adventure racers dream come true (or anyone looking to be fast and light).
Features
Kinetic FTS Suspension
Anatomical backpanel with center channel ventilation
Highly breathable split channel harness
Shoulder strap quick access pockets
Cross-elastic hydration tube retainer
Panel loading for main compartment access
Single tool/axe/trekking pole attachment point
Front bucket pocket
Top accessory pocket
Side compression
Durable and lightweight 210 Dynajin and 420 nylon materials
Volume – 24 liters (1465 in3)
Torso Length – 40.6-55.9 cm (16-22 inches)
Measured weight – 680 g (1 lb 8 oz)
Retail - $100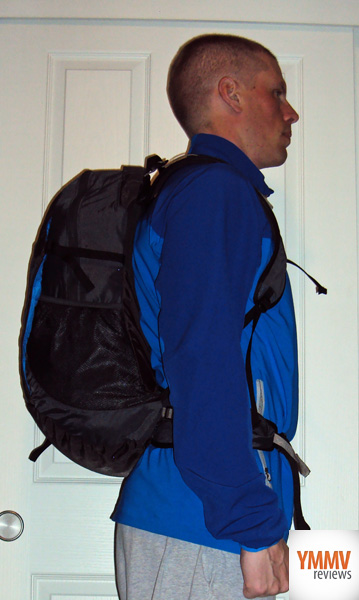 YMMV Review
Gregory was started back in 1977 by Wayne Gregory. Gregory's packs have always been about materials, fit, and innovation. I purchased my first Gregory Pack back in 2001, and it is going strong. Actually, the Denali Pro is still in the Gregory line the same as when I purchased it. Gregory's packs are solid and just have staying power. They have a couple of new lines of packs coming out this spring, and I will be reviewing a pack from each line.
Testing
The Fury 24 is a fast a light daypack. I used it on day hiking, snowshoeing, cross-country skiing, and alpine touring. I am not an adventure racer but think it would be a good testing ground for this type of pack.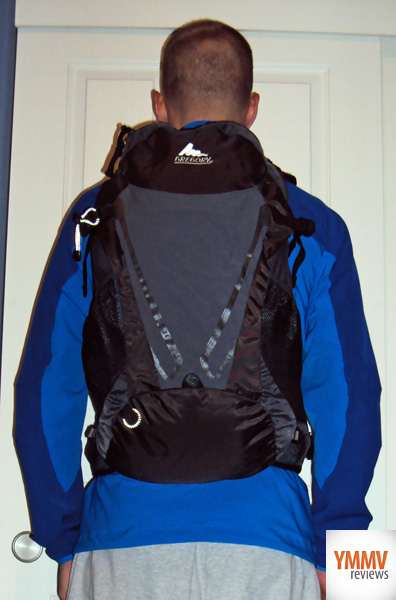 Design
The Gregory Fury 24 is made to be a fast and light pack. The pack is built of two different materials that are durable and lightweight. The Fury 24 is aimed at adventure racers, peak baggers, and done in a day hikers. Gregory has made an emphasis to trim the weight off of this pack while keeping all the features of a more substantial backpack. The Fury 24 is the 2nd smallest in the Fury series of packs; they range from 16-40 liters. There is also a women's line of similar packs called the Freia Series.
The Fury 24 is a top-loading pack with a large main pocket. The main pocket has double sliding zippers for easy opening. At the top of the pack, there is also a small accessory pocket. Other pockets on the pack include two mesh water bottle pockets on the sides and a large stretch front pocket. At the bottom of the stretch pocket, there is a small mesh opening to allow water to drain out if it is a wet day. The pack has side compression straps to tighten the load when the pack is not quite full. One thing that was missing from another pack of this size that I tested was an ice axe/trekking pole attachment point. Fortunately, Gregory has added one of these to the Fury 24. The pack is made to accommodate a hydration reservoir with an internal sleeve and a hydration port for your tube. The straps have elastic tube restrainers to guide the tube down either shoulder strap.
The straps on the Fury are padded with mesh channels in the middle to allow airflow and keep the user cooler. These are located both on the shoulder straps as well as the hip belt. Both shoulder straps have small stash pockets that are a good place to store smaller items like gels or energy bars. These pockets will stretch slightly. The hipbelt has small zippered pockets, which can be used to store slightly bigger items. One of these pockets is mesh and the other is a solid fabric. The adjustment system on the pack is similar to others with five places to adjust the harness. The shoulder straps and hipbelt both have their adjustment straps. There are also a sternum strap, load lifters, and stabilizer straps at the hips.
The Fury 24 uses Gregory's Kinetic FTS Harness System. The Flexible Transfer System (FTS) eliminates the need for a stay by incorporating an active, breathable suspension based on Gregory's tried-and-true fit philosophy. The back panel is anatomical with a center channel to optimize ventilation. Since the pack is smaller and does not have any structural support, Gregory recommends keeping loads below 15 pounds for this backpack.
Looking through the Gregory website and trying to find information on Gregory's sustainable practices and initiatives led me to find nothing of note. Gregory does, however, partner with some great organizations such as the American Mountain Guides, Appalachian Trail Conservatory, Outdoor Industry Association, Pacific Crest Trail Association, and The Conservation Alliance. I know that Gregory makes some of their packs in the US, but I was not able to find any evidence of sustainable practices on the Fury 24, so I gave the pack a rating of one for sustainability.
Fit
The Gregory Fury 24 Backpack comes in one size. According to Gregory this should be able to fit a torso between 16 and 22 inches. I have measured my torso to be about 18 inches, which falls right in the middle of this range. This is always convenient as I felt like the Fury fit me well. The straps all felt comfortable, and I was not able to notice any decreased comfort due to less padding in the middle of the straps. I did find the hipbelt slightly more difficult to adjust, there is a learning curve there based on the straps going underneath the pockets. The back panel is comfortable against the back. With the lack of structure, the pack is able to easily move with your body. This ended up being a great ski pack for me as it did not feel restricting. I imagine it would also be a good option for adventure racing as you are doing a wide range of activities. Since the pack is made to carry only 15 pounds I never felt like it was overloaded or uncomfortable due to the weight. With the width and padding of the straps, it easily distributes the weight and stays comfortable.
Performance
I have been happy with the Gregory Fury 24 Pack in my testing. The breathability of the back panel and straps is tough to quantify. I think they breathed a little better, but I tested the pack during the fall and winter, so I had more layers on. Many manufacturers are devising stapes and panels with breathability in mind, and I think these worked as well as many of the others I have tested while still being comfortable. Some have a tendency to lose comfort in favor of increasing breathability. These straps do a good job with both and are also more than enough to distribute the weight and maintain comfort for long day trips. The compression straps are about what I expected. At times, I wish they would tighten up smaller loads a little more, but for the most part, they did their job. I really liked the mesh water bottle pockets and stash pocket in the front; these pockets are essential for fast moving activities when you do not want to take the time to get into your pack. You can just stuff you jacket into the stretch pocket and go.
The nylon fabric is similar to what Gregory builds many of their packs out of. It is water resistant and can easily stand up to a light shower. If you are going to be out in the rain for a long period of time, I would definitely suggest a pack cover or waterproof liner inside. Both are lightweight and better than chancing it. On my ski trips, it was snowing several times, and I never had any issues with stuff getting wt inside. Snow just brushes right off, rain would be my only worry.
The Fury has so far stood up to all the abuse I have put it through, which really is not much. I tend to be fairly easy on my equipment and do not beat it up to much. I have some other Gregory products, which have been used hundreds of times over 10+ years and are still going strong. My expedition pack is the Denali Pro which I reviewed a while back and has withstood everything I have thrown at it. I hope to get similar results with this pack.
Overall
The Gregory Fury 24 is a great pack to have in your collection. It is small, lightweight, and very versatile. The pack can be used for a wide range of adventures and will perform equally well. I do wish there was a clip in the back to pull the hip belt back and out of the way when you did not want to use it. I found the shoulder straps to be enough on my cross-country skiing trips and did not want to use the hip belt. It would be nice to keep it out of the way rather than just flapping around open. The other thing I noticed about this pack is the large plastic zipper pulls. This is not a bad thing but just something that took me some time to get used to. They have a different shape to them. If you need a lightweight do it all pack, I would suggest taking a look at the Fury and Freia Series packs from Gregory. They have some great features and are game for any fast and light adventure. Gregory's are all well-made, and in my experience have never let me down. The Fury 24 retails for $100 and is new this year. As always, your mileage may vary.
Pros
Lightweight
No structure so it moves well with the body
Distributes weight well for no frame
Has ice axe/trekking pole attachment
Cons
Hip belt takes a bit to get used to adjusting
Wish you could pin the hip belt back and out of the way