Skora BASE Shoes
Manufacturer Description
BASE offers a high tensile stretch mesh sockfit upper with an innovative X-strap closure system. Minimal upper overlays, and a durable mesh construction provide a lightweight, full-foot fit with or without socks.
BASE is built on the R01 platform composed of the REALFIT last, developed to offer a unique anatomical fit that closely matches the foot's shape. The R01 platform also features a zero-drop outsole/midsole with minimal cushioning and a curved section profile in both the forefoot and heel. This allows for optimal natural movement and performance.
Features
REALFIT last
Full Sockfit
High tensile stretch upper
Nylon X-strap system
Elastic heel strap
Reflective details
4mm Ortholite sockliner
High abrasion rubber
Zero-drop construction
Stitch-down construction
Measured size 9
Weight – 229 g (8.1 oz) with Insole
Stack Height – 9mm (Heel), 9 mm (Toe), zero (drop) without insole
Insole - 4 mm thick
Retail - $125
YMMV Review
Skora is a new brand to the running shoe market. It was started back in 2008 by ordinary runners who were tired of the hype, and tired of getting injuries while running in traditional shoes. They sought out to create shoes that were made by runners, for runners, that allowed them to run like nature intended. It was after many variations and adjustments that the first models were released in early 2012.
I was able to meet with the VP of Skora at the OR Show in January and talk about how they created the shoes and were doing things differently than other brands. He was able to set me up with a pair of shoes to test, and they have been in my rotation since.
Testing
I have put a bunch of miles into the Skora BASE shoes from roads to trails. For this test, I would estimate that 60% of my running has been on roads, 30% on soft surface trails, and 10% on slightly more technical trails. The testing was both done in the cool weather here in Bend this spring and also on vacation in Hawaii when it was hot and humid.
Design
Skora shoes are a different approach to running shoes. In recent years there have been many more companies to come on the market with minimalist and lower drop footwear. It is now actually common to see these shoes out and about. While not everything Skora does will be exclusive to them, they have created some shoes that are different than anything I have ever run in. Skora outlines "10 Real Differences" between their shoes and what is normal.
10 Real Differences
Zero-Drop: Skora shoes are zero-drop, meaning the heel and toes are level. This keeps your movement natural and biomechanically correct.
Minimal Cushioning: The Skora Shoes have minimal cushioning and removable insoles for even less cushioning if you so decide. This ensures better ground-feel and allows your foot and body to work together.
Asymmetric Lacing: Skora believes since your foot is not symmetrical, why should your laces be? This provides a better fit. As a note, this applies to the FORM model, not the BASE.
Stitch-Down Construction: Using this construction method eliminates extra seams and stitching inside the shoe for improved fit and comfort whether you use the sockliner or not.
Anatomical Last: Asymmetrical last shape with a curved bottom profile, wider toe-box and larger ball girth volumes provides a more natural fit.
Curved Outsole Forefoot Profile: This is meant to mimic the foot shape and encourage natural medial to lateral roll.
Curved Outsole Heel: Also mimicking the natural heel shape, this encourages natural heel movement (medial to lateral) in running and heel roll in walking.
Concave Outsole Forefoot: The concave is made to mimic the concave in the forefoot providing a more natural ground feel.
No Heel Counter: Lack of reinforcement allows for a better fit and comfort in all degrees of motion.
Elastic Heel Strap: This adjustment enables a personal fit around the heel.
The BASE shoes use all these "Differences" in their construction minus the lacing. In place of the lacing the BASE has a high-tensile stretch upper which is comfortable against the skin while allowing the feet to breathe. To secure the foot the shoes have a nylon X-Strap system with a Velcro attachment. This system can be adjusted to your preferred tightness. Above the strap in the front and with a loop in the back, Skora has given you two spots to grab in order to get the shoes on and off easily. The idea really being that you will not need to adjust the straps once you have your optimal fit and can just slip these on and off from then on. I say straps because as mentioned in the 10 differences, there is a heel strap that can be adjusted to change the width of the heel. This is also a Velcro strap that is made to set and forget, just like the X-Strap. On the upper and in the back, there are some reflective elements for visibility in low-light conditions.
Skora uses their R01 System in building their shoes. I have included the diagram from the Skora website below to help explain it. Essentially it is a three part system: the sockliner, midsole, and outsole. The sockliner is made by Ortholite and is 4 mm thick. It can be left in for cushioning or removed if you prefer a little more ground feel. Skora has made sure that if you do choose to run without the sockliner, the inside of the shoes is still finished and seam free. The sockliner has an anti-microbial treatment applied to it to prevent bacteria growth and therefore, odor. It also has been perforated to increase breathability. The top cover of the sockliner has raised bumps to increase biofeedback and foot feel. For fun, Skora has even put their saying "Run Real" on the bottom as well. The midsole is a zero drop 5 mm thick EVA foam that gives a bit of cushioning from the ground. It has the same anatomical flex grooves as the outsole to allow for natural movement. The outsole is different than any other outsole I have tested. It uses a high density and durable high abrasion rubber. The rubber is 4 mm thick making the total thickness off the shoes 9 mm without insoles and 13 mm with the insoles. The outsole has a low profile bumpy tread for traction. The outsole has also been shaped to match the natural shape of the foot. It is curved on the side and in the heel while being concave in the forefoot. The flex grooves that are mentioned in the midsole match up with the seams left open between the different pieces of rubber on the outsole. These "seams" or flex grooves allow the foot increased flex and therefore, more natural movement. Take a look at the pictures and diagram to better see what I mean.
Skora has built both of their shoes thus far on the same anatomical last. To this point, they are only available in Men's but Women's models will be out in the fall. Not that this should stop women from trying these, they can size them accordingly and do just fine. The anatomical last that Skora uses is made to match the natural foot shape. While they are not the only brand to do this, think Treksta, I am not sure why so little brands do this. The last has a natural arch shape, zero drop, generous ball girth, curved bottom edges of the foot, wide toe box, natural bottom profile such as concave forefoot, and generous heel cuboid. All these features are what you would see if you looked down on the average runner's foot. As compared to many lasts, these have more of a shaped profile, which does make them a bit more difficult to produce the shoe.
Unfortunately, the materials used to produce these shoes are not from sustainable or green sources. I looked around the Skora site, and to my knowledge have not found any more information on this. The FORM shoes which I have not tested are made from leather, so I gave this rating a rating of one for sustainability. Skora is a new and small company, as they grow, opportunities in this area will be a little easier.
Fit
The Skora BASE shoes are very comfortable right out of the box. Just putting these on, I knew that I could go out and run as far as I wanted without a break-in period. There are no built-up parts of the shoe to rub and therefore, nothing to break-in. This does not mean that they won't rub or give you blisters, but it will not be from things that need to break in. In most of my testing, I have always worn socks as my feet tend not to agree with the insides of shoes. Even shoes that are "seam free" or made for sockless running have sometimes given me issues. I can honestly say that the Skora BASE is the first pair I can run in without any issues whatsoever. I did a run of 18 miles in Hawaii in these without socks and had no rubbing or blisters. I have had issues pop up in less than a mile with some shoes so this was a great revelation. This also makes these a good option for Triathletes as we do not like to take the time to put on socks.
If you are looking for a shoe that fits tight to your feet, the BASE is not it. With the fabric upper and X-Strap system the shoes are on, but I would not call them tight. I feel like I am wearing a comfortable slipper. This is not meant to be a knock on the shoes, just the best way to describe them. I think the FORM model will have a much more adjustable fit as it has laces, hopefully I can test them down the road. While the fit is not tight, I would not call it loose either. I am normally a size 9, but as I have done more minimalist running I seem to need a 9 ½ more often than I used to. This was not the case with these; I tested the 9 and can say it was the right size for me. In all area in the shoes, there was a little room but not sloppy. They really were as comfortable as having a pair of slippers on but still provided a secure enough fit to run in them, both slow and fast. Even on some downhill sections where a looser fit may be worrisome I did not have any issues or notice and sliding around of my foot. It is as if the last is the shape of my foot, =) I think that was the idea.
I found the volume and length to be just right. Enough room not to feel constricted but not sloppy. I did prefer to leave the insole in for a bit more cushioning and also a snugger fit. If I took the insole out, then it was a bit sloppier for my foot. Even when tightening the strap it was still a little loose. The heel strap makes it so you can customize the heel width if you need to. I am just a medium type guy, so I really did not have to play with this much. If you do have a preference though, this is a great option. Between the X-Strap and heel strap the shoes are able to be adjusted fairly well. I did not have much of an issue with it but have read that others wished the Velcro section on the X-Strap was slightly larger as it is a bit limiting on how much adjustment it allows. I guess the same can be said of the heel strap, but it accommodates more adjustment than the main strap does. All this said I did not have any issues with the fit. I ran some slower runs and my fastest 10k in these and felt great at both speeds.
Looking Inside - Well Padded
Performance
Running in the Skora BASE has been a pleasure. I have been running in minimalist and zero drop footwear starting back in 2007, so I did not have any transition period to worry about. Right out of the box I could take these out for some longer runs. I even stretched them out to about 20 miles on my long runs but would call that the max for me. The BASE has a decent amount of ground feel mixed with cushioning but over 20 miles, my feet were definitely a bit sore. What I really noticed when running in these shoes was the flex grooves in the sole helped the shoe move really well with your foot and the ground. The concave forefoot would flex and allow your foot to spread into the ground making for a very comfortable ride. As long as you were running with correct form the shoes would feel a lot more cushioned than they were while still allowing ground feel.
Of course with the ground feel there is a trade-off with protection as was the case with these. I ran some trails in these, and you could definitely feel some of the bigger rocks. On one occasion in Hawaii, I must have stepped on some thorns because I pulled out two from the sole of the shoes that had pieced the non rubber sections. One thorn was about a centimeter long, but it did not pierce all the way through. Check out the picture if you want to see more.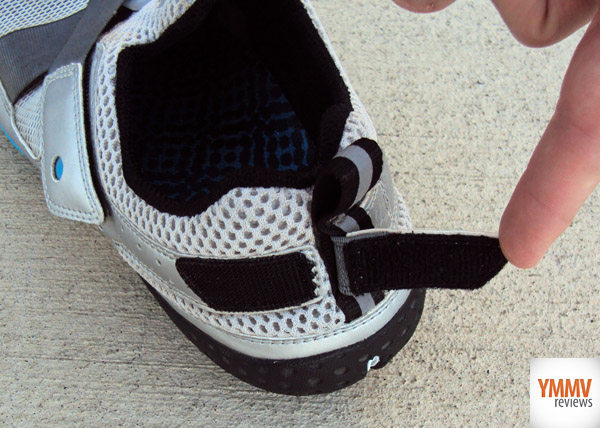 The Skora BASE does lack in traction as they are built mainly for roads, and soft surface trails. I did not do anything too technical in them but felt like they were about what I expected on the surfaces I ran on. What I have been impressed by is the durability of the rubber sole. After nearly 100 miles in the shoes the sole still looks relatively new. I fully expect to be able to get 500+ miles out of these shoes. It will most likely depend on the durability of the upper. I must say that so far the upper has held up to everything, and I will check-in here if anything changes.
Overall
Overall, I have really enjoyed my running in the BASE shoes. As I have mentioned before they are different than all my other shoes, and if I could describe them in a word I would choose "smooth." The concave sole, wide forefoot, and sectioned outsole allow the shoes to just spread into the ground making for a very comfortable run. You really need to try them to understand. What impresses me with these shoes is also the overall comfort of them. The BASE are finished on the inside, so they never gave me any hotspots or blisters. This is a tough thing to do as my feet tend like socks. Even if you remove the insoles the bottom of the shoes is still finished and comfortable. These are some of the most finished shoes I have tested. The attention to detail and manufacturing is top notch. There are a couple things about the BASE shoes that I was not over the top about, but they did work well for me; they might not for everyone. This would mainly be in regard to the strap system. They are not very tight, which may or may not work for you. While you can adjust the tightness, it is a little limited. The FORM are lace ups and seems to be able to be tightened more than these. I would not let this deter you however, as these shoes are an impressive first shoe from Skora. If you are in the market for a zero drop shoe with a little cushioning, do yourself a favor and check these out. They retail for $125. As always, your mileage may vary.
Pros
Lightweight
Very comfortable upper
Shaped to fit your foot
Run very smooth due to sections and shape of sole
Rubber sole seems very durable thus far
Cons
Non rubber sections of the sole are vulnerable to sharp things
Retention system is limited