Boreas Lagunitas Backpack
Manufacturer Description
A revolutionary hike-bike-travel-commute daypack. The first of its kind: a pack so versatile, it works as well on a bike as on a hike.
Features
Presto-Chango variable suspension
Water resistant main pocket
Waterproof top pocket
Two side zip pockets
Air flow back panel
Resilient foam in the belts and straps
Lightweight 210D ripstop nylon impregnated with silicone
One size
Torso – 46–51 cm (18–20 in)
Volume – 25 liters (1,342 cu in)
Measured weight – 970 g (2 lb 2 oz)
Retail - $130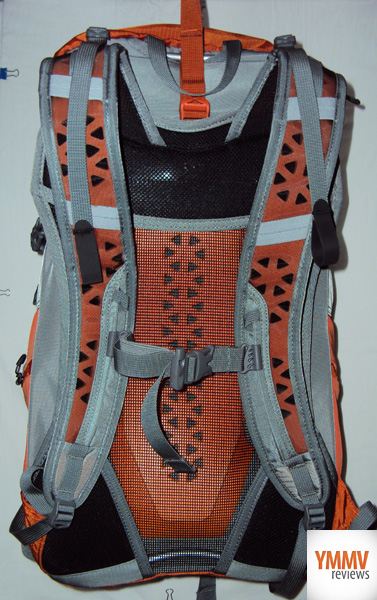 YMMV Review
Boreas is a new pack maker located out of the Bay Area in California. I first saw some of their products a year ago at the Outdoor Retailer show, but it was not until this fall that I set up a review of one of their packs. Boreas makes beautiful, practical, and a hardwearing stuff for people and the things they do. They try to keep it uncomplicated and not too expensive. They also firmly believe that they need to be versatile and not compromise form for function.
Their packs definitely are a little different than the run-of-the-mill backpack that you often see. Their designs are interesting and often contain a different idea that I have not seen on a pack before. Consider the Lagunitas; you will see from the review how it is different than most backpacks. I want to thank Boreas for sending me the pack to test out.
Testing
The whole idea behind the Lagunitas is versatility. I, therefore, tried to get out and test it while doing a variety of things. I used it hiking, commuting, and around town. I used it, mainly on dry and sunny day with one epic rainy hike.
Flattened to accomodate Rigid gear
Design
The design of the Lagunitas is all about versatility. Like many Boreas packs, it is not made for one specific activity. I can be used for hiking, cycling, or just around town. What makes the Lagunitas unique is the backpanel, but we will get to that. The pack is 25 liters in size with a standard barrel design. The pack is made from a combination of materials. The main compartment is made to be water resistant with silicone impregnated ripstop nylon. The pack has a stripped design, and these stripes are a stretchable material with the nylon underneath. What this does is makes a pack that will compress slightly smaller when not full and stretch to full capacity when packed. Inside the main pocket is two drop in sleeves. The larger one can be used for a laptop or water reservoir, depending upon the activity. There is also a smaller drop in pocket for a tablet, map, or any other small items. Access to the main compartment is by a horseshoe-shaped zipper at the top. The lid created by this zipper is where the zippered waterproof pocket is. This pocket has been made entirely waterproof, even the zipper. They have also incorporated a window so you can see what is inside if you need to.
There are two other small pockets located on the bottom side of the pack. These pockets are stretchy, zippered, and have reflective elements on the outside for visibility. Along the back of the pack, there are also a couple webbing loops that can be used to attach things to the pack. Boreas has done something interesting with this webbing; it is hidden under some nylon flaps so when not in use it does not add clutter to the outside of the pack. On the outside of the pack, there is one compression strap on each side. This allows the pack to be kept tight whether full or not.
Flexed for more Breathability
Now what is most unique about the pack is the backpanel. The pack uses a wire frame that can be normal or adjusted to form a breathable back. The backpanel uses a breathable foam that when flat adds cushioning and is flexible enough to bend when the pack does. The actual area against the back is a breathable mesh with pads at the shoulders and the outside of the hips. To create the breathable backpanel, Boreas has created an innovative strap at the top that can be pulled while the pack is flexed by hand. By doing this the strap will hold the flex in the pack and make it more breathable. To release this all you have to do is release the strap.
Similar to back, the shoulder straps use thin foam with breathable holes that not only pads but stays comfortable. The shoulder straps have reflective elastic webbing that adds visibility while also being able to be used for routing a hydration tube. Speaking of the hydration tube, I forgot to mention that both sides of the pack have ports for routing the hydration tubes out from the internal reservoir. The shoulder straps have easy to grab load lifters on the top that help adjust the weight. The shoulder straps have an easy to adjust sternum strap that slide up and down based on preference. For safety, the buckle on the sternum strap also can be used as a safety whistle. The waist straps are just a basic webbing strap. It has buckles on the front and adjustable attachment points, which give the waist belt a lot of adjustability. With a clean and carefully thought-out design, the Lagunitas is not only versatile but has a clean look. All the construction seems to be well done with trimming finishes you come to expect from a top pack.
Looking into the materials used in the pack, none of them appear to be made of any sustainable materials. Most companies like to mention when they are, and I was not able to find any information on it. One thing that is great about the pack is how it is made to be extremely versatile. It can be used for a wide range of activities, and therefore, you might need as many backpacks. I also am a big fan of how the company is geared towards alternative transportation like bike commuting. Boreas is pretty new so it was hard to find any corporate initiatives in regard to sustainability. This tends to be something added a bit down the road.
Fit
The Lagunitas Pack is a one size fits all. Of course, this means that it will work for most people, but if you are really tall or really short, it may not work. According to Boreas it fits a torso size between 18 and 20 inches. I am generally a medium in most pack sizes, so I fall right in the middle of the torso sizing so it fit me well. The shoulder straps are adjustable like most packs are. One thing that is a nice addition is load lifters. Generally, I do not find this on packs that is this small. While with a light load it may not be as noticeable, it is nice that the option is there. The sternum strap is fully adjustable and can travel up and down a good way. Since this pack is unisex sizing, being able to accommodate men and women is needed, and they have different needs of course. The hipbelt is small but is also adjustable. Not just in size but can move up and down similarly to the way the sternum strap does. It is a pretty cool concept that I have not seen on a hip belt before.
Using the Lagunitas both for hiking and on the bike, I liked the mesh backpanel both when flexed and not. When flexed there is just air behind it, and it felt comfortable to my back and when relaxed the high density foam behind the mesh added some padding, which is appreciated. This same foam was used on the shoulder straps, and even though they were thin they did a great job. I really liked the use of high density foam for the straps. It seems to be more common in packs lately, and I think that is a good thing. One thing I noticed with the pack was that there was more weight at the bottom of the lower back. I wished there was a little more padding, but it was not uncomfortable. Just a little more pressure at the bottom of the pack. The hip belt is basic but is not really needed to take much weight as the pack is not that large. I only found that I used it about 1/2 the time.
Performance
I used the Lagunitas on many different activities, and that is also what I like most about the pack. It is very versatile. The pack has many features that make it good for all, but the coolest is the back panel. I also like the fact that they have added some reflective elements for visibility. This is what proves they wanted to make it good for even commuting. The pack holds 25 liters but has been designed to contract a bit when not full. There is also a compression strap on each side to also tighten it up. This has been plenty for all my day hikes and commuting to and from work. I like how the pack has sleeves on the inside for a reservoir or laptop but there is one issue with it. With a reservoir, it works all the time but with a laptop in there you are not able to flex the pack to make the back panel more breathable. My 15-inch laptop fit no problem but with it in there I had to keep the back panel straight.
The innovative flexible back panel is pretty cool, nonetheless. All it takes to adjust it is pushing down on the pack and pulling the strap tight. It is really easy to do. When it is flexed, I was able to notice a little more breathability. A lot of it depends on whether there is any air movement. On windier days or when riding a bike it was much easier to feel the increased air movement. When air movement was not existent, I could not tell much difference. This seems to be the case with all packs with the trampoline back panel. The straps have holes to make them more breathable, but it was hard to tell if it helped much. It might be a slight improvement, but it is hard to tell. The pack is able to accommodate a reservoir well as it hangs in the sleeve. It is a bit tight getting it in there, and the stretch panels help. This tightness does help keep the pressure on the reservoir so it is easier to get water out. The pack has 3 pockets, one on top and 2 on the sides. The top pocket is plenty large enough to put a fair amount in there. The side pockets are slightly small. They are a stretch material which helps them adjust to what is in there, but I did find them a bit smaller than I like.
I really only had one day where there was a lot of weather. There really was a lot too. It rained for my whole climb and had wind upwards of 50 miles per hour. With all this rain, the main compartment did get wet. It is only water resistant so it is made to handle a light shower but this was much more than that, so I did not expect it to hold out. On the other hand, the top pocket did stay dry which I appreciated. I was able to put some important items in that pocket and trust they would not succumb to the elements. Only by dunking it in water could you have any worse conditions.
Overall, the Lagunitas is a very interesting and solid backpack. I like how versatile the pack is as you can buy one pack and use it for everything. It also has a variety of features that make it a great pack. The innovative back panel is definitely worth a look by itself. There are a couple of things that are things that could change. Not being able to flex the pack with a laptop in the sleeve, the increased pressure at the bottom of the pack, and the smaller side pockets on the sides were not my favorite, but for the most part, the pack was pretty solid. Boreas is a new company so you may not have heard of them yet. They are worth looking at though, they have some different ideas and some good packs. The Boreas Lagunitas Backpack retails for $130. I found this to be a good value, as always your mileage may vary.
Pros
Versatile
Flexible back panel
Comfortable foam in the back and straps
Waterproof top pocket
Sleeve inside works for a laptop or reservoir
Cons
Smaller side pockets
Can feel the pressure at the bottom of the pack
With a laptop in the sleeve the back panel cannot flex