SeaSucker Talon Bike Rack
Manufacturer Description
Finally, a bike carrier that's easy to install and won't damage your car! SeaSucker bike racks use our incredibly strong vacuum mounts and allow you to temporarily but securely mount your bike to the roof of your car without the hassle of permanently attaching any hardware. SeaSuckers are non-marking, UV and weather resistant, and hold exceptionally well to glass or metal surfaces.
Features
Includes one Rear Wheel Strap (6″ SeaSucker with hook-and-loop straps) to secure your bike's rear wheel and keep the tail from sliding left or right.
This rack has one fork clamp attached to three 6″ SeaSuckers
Each cup rated to 210 lb. pull-strength
Rack body made of 1/2″ HDPE
Designed to mount to your roof and front windshield, but can be used just about anywhere – on the roof, on the trunk, etc.
Measured size – 38.1 cm x 30.5 cm (15.0 in x 12.0 in)
Retail - $270
This is Not Me, but can hold a lot
YMMV Review
I have not had the greatest success when it comes to bike racks. Melissa and I once had our bikes come off our car at 75 mph on Interstate 90. We were driving back to Seattle after a training weekend in Coeur d'Alene, and the rack popped off and took the bikes for an unwanted ride. My bike took most of the impact and ended up having to be sent back to the manufacturer for inspection. Costing me my bike for my first Ironman. Needless to say this has made me a bit gun-shy on bike racks. For the most part, I try to put my bike in our Rav4.
I saw the SeaSucker and thought it looked really interesting. I liked how simple it was to install and remove so I thought I would give it a shot. I have always liked new innovative ideas so it was worth a shot to see how this one worked.
Testing
To test the rack I used it on our Toyota Rav4 for trips up to Phil's Trail and a couple other adventures around town. I also used it for a couple trips over Mt Hood for my training and race in Portland.
Design
The SeaSucker Talon Bike Rack uses suction to hold it to your car. The Talon has three suction cups on the front and a single suction in the back. The Front is like many other roof racks in that it holds the front fork while the rear has the back wheel. The Talon has been designed to work on your front windshield and the roof, but is versatile enough to work nearly anywhere. I preferred to use it with the front two cups above my windshield with the third one on the front stuck to my sunroof. I did also use it on the windshield without issue. The rack is made nice and solid. It uses an HDPE body attached to the thick rubber suction cups. Each suction cup is rated to hold 210 lbs. On each cup is a mini pump. This pump pulls out the air inside to secure the rack to the vehicle. What is cool about this is the pump has an indicator that shows you when the unit is secure and when it needs to be pumped further. If you see orange, it is not secure.
While you may not think that appearance fits in a review of a bike rack. I think of it like this, what is great about this rack is that it is easily put on and removed. Therefore, if you have a car that you don't want to put a rack on permanently, this is the option for you. It essentially saves the appearance of your car. That is pretty sweet. The bike can be locked to the rack. Now what is missing on this rack is the lock itself and how the rack locks to your car. Since the rack is so easy to remove, what would stop someone from doing it when the bike is attached? That is my issue with the rack. At least permanent racks stay locked to your car.
Fit
What makes the SeaSucker Talon great is the options. You can put it on top, on the back, even on the side, not that you would ever do that. Need a rack for both your vehicles? Well, this one you can move it between them. It easily adjusts to different-sized bikes and fits a mountain bike, road bike, cross bike, tri bike and everything in between just as easily. your tire size, the Velcro strap for the back wheel makes it easy to fit it. One trick I have found is that you do need a flat spot for the suction cup to adhere to. roof of my Rav4 there are some ridges but between the ridges there is room. You just need to position it correct.
As I mentioned above, it is nice that you can use this rack on all your vehicles. Another thing that is nice is if you are traveling to a race, and you bring your bike; you now have a rack for your rental car. The Talon can fit into a suitcase really easily; that is a nice feature. In the same way, you can store the rack easily or thrown into the trunk when on a ride. Remember the rack does not lock to the vehicle.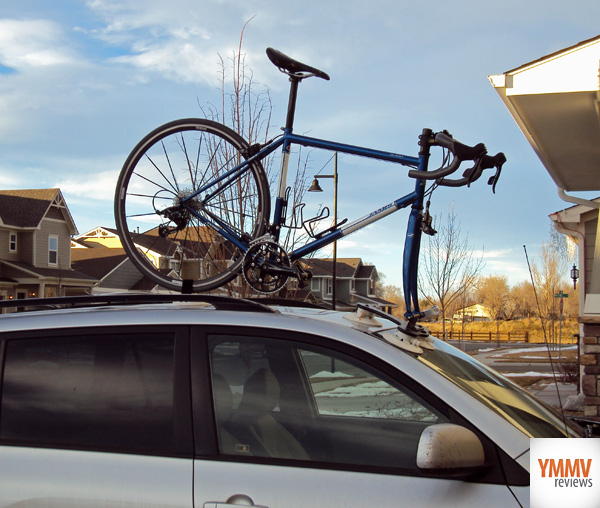 Performance
I must admit, using the rack makes me nervous. I have never had any issues with the rack, but have had issues with others so that may be part of it. If you go to their site, you can see some videos of the SeaSucker Racks being used with people hanging on it and others of the rack being on top of a race car. I used it up to speed of 70 miles per hour, and it was fine. So far, the rack has also been durable, not that I am that hard on it. With the rack, it is important that you do not let any damage happen to the suction cups. They need to keep their integrity in order to stay on the vehicle. The only way they really can be damaged is when they are not in use, so they have plastic covers to protect them. You can see it in my pictures.
The SeaSucker Talon is pretty easy to use. I have included a link to a video that shows how to install it. To install in you need to first make sure the surface is clean. Having a wet rag to clean off the spot is useful, it also makes it so you can wet the suction cup. By adding some moisture, it makes it a better connection. Once both the spot is clean, and the cups are given some moisture you can attach them to the vehicle. They can be secured to metal, plastic or glass so you can put it wherever it works best. To suction it, press down the cup and start pumping out the air. There is a push button pump on that rack that you press in to pump out the air. As you do it, you will start to notice that the button does not come out as far as you pump it more. You will also notice there is an orange portion of the button and a white portion. This is to indicate when the suction cup is good to go. If you cannot see any orange, then it is safe. Once attached, just put your bike on like any other rack. To remove the rack all you have to do is pull up on the edge of each suction cup and the pressure will be released. Pretty easy to do.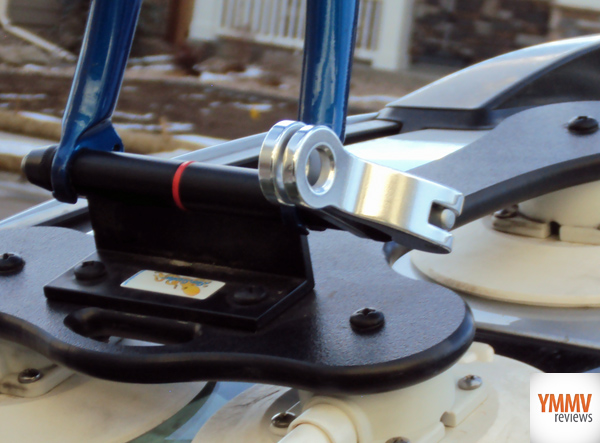 Overall, I really like a lot a lot of things about this rack. The versatility is what really sets it apart. You can put it one vehicle and then take it off and put it on another, that is cool. You can also put it on the top or the back. I think that since it can be put on temporary, it really is a good option for people with sports cars. You don't want to have a rack on all the time, and you want to own a sports car. This is the rack for you. I do worry sometimes when it in on top of the car, I wish I could see the button while I drive so I knew if or when a button started showing orange. I say that but I do not think the permanent options are much better. They rely on clamping onto a roof and I have had one of those fail. The SeaSucker has not failed or had any issues for me. I do wish that you can lock the rack to your car. You can lock the bike to the rack but not the rack to the car which is a big deal for me. Either keep an eye on the bike at all times or don't plan on leaving your bike out when you are not around. I do not think this is a deal breaker because more often than not I do not leave my bike sitting on my car. The SeaSucker Talon retails for $270, which is a bit steep for just one bike. It does offer versatility and something no other rack offers. Depending on what you need, I would definitely recommend the SeaSucker Talon. The rack is pretty cool. As always, Your Mileage May Vary.
Pros
Can move from car to car
Easy to attach and remove
Fool proof pump
Small so it can be easily stored or brought with you
Multiple suction cups provide redundancy
Cons
No locks included
Still makes me nervous
Expensive for one bike