Camaro E-Pulsor Triathlon Wetsuit
Manufacturer Description
The Camaro E-Pulsor Triathlon Competition Wetsuit is a step down from Camaro's Pro-Pulsor Triathlon Competition Wetsuit, however it is still a very high-quality wetsuit and perfect for those competitors who take their triathlons seriously. 5-mm neoprene on the chest improves your buoyancy and body position in the water while thinner 2-mm and 1-mm neoprene on the legs and arms barely restrict your movement so that you can perform to your max. The Camaro E-Pulsor Triathlon Wetsuit also features glued stitches and a G-lock zip that is 93.75% waterproof.
Features
Material - 5/2/1 mm Yamamoto SCS #39
Extra-flexible, thin material
G-lock back zip is 93.75% water resistant
Dynamic cut
Perfect competition suit
Seams glued and blind stitched
Free Repair Service for 3 Years
Retail - $400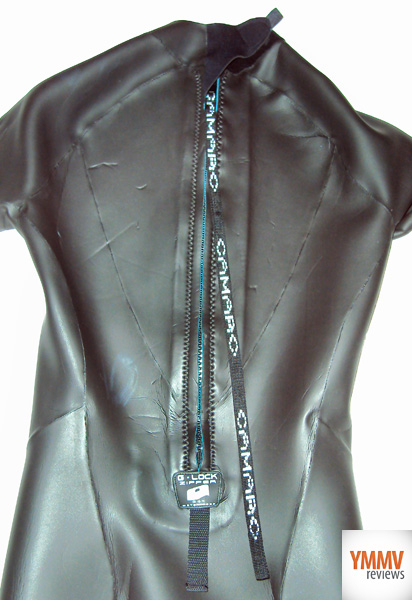 YMMV Review
You may never have heard of Camaro Wetsuits unless you are in Europe. I know I never had until I was doing a review of another Austrian company called Komperdell. If you had not guessed it, Camaro is an Austrian company that was founded over 40 years ago. They specialize in wetsuits for all manners of water sports, not just triathlon. They have three things they hang their hat on:
Quality
Innovation
Service
As I was already testing the Komperdell Poles I reached out and was able to set up a review of the wetsuit.
Testing
I used the Camaro E-Pulsor as my primary wetsuit during the 2012 season. This included several races and my open-water training as well. My longest swim in the suit was around 2 miles, and water temperatures varied from 58 to 72 degrees according to the race officials.
Design
The Camaro E-Pulsor Wetsuit is made in Austria with Yamamoto SCS #39 neoprene rubber. Yamamoto's neoprene rubber is the industry standard for top level wetsuits. The most common ones used are their numbers 38-40. As the umber goes up the rubber becomes lighter, softer, suppler, and more expensive. The #39 rubber is right in the sweet spot for most wetsuits. Yamamoto SCS Neoprene is their unique patented Super Composite Skin material that features specially processed coating applied over their closed-cell neoprene rubber. This neoprene has several qualities that make it superior for wetsuit use. It has an ultra-low resistance in water with a coefficient of 0.021 when wet compared to 4.0 for conventional neoprene when wet. It also beats conventional neoprene when dry but that really does not matter much. SCS neoprene has superior moldability for enhanced comfort and better range of motion. While heat retention is largely a property of the neoprene thickness, there are also some differences between products and SCS neoprene has higher heat retention than standard neoprene. The SCS neoprene will also be lighter weight and will not absorb water. This is important because that adds weight, and weight is slower. The final and most important trait with SCS neoprene is the added durability. The suit will last you longer and be a better investment with this high-quality material.
The E-Pulsor uses a paneled construction of three different thickness of neoprene: 5mm, 2mm, and 1mm. These thicknesses are strategically placed as the thicker neoprene adds warmth, flotation, and stability while the thinner ones will add flexibility and aid in movement. The panels have been connected by gluing the seams and blind stitching them together. A blind stitch is a method that all but eliminates the visibility of the stitching and takes much more effort to do. The importance of this is that seams and stitching can cause discomfort and Camaro wanted to avoid that while making the suit as durable as possible. At strategic junctions on the inside of the suit, there are small patches to further cover up these seams and reduce the chance of discomfort. Camaro makes their own suit and with such a high quality of a suit they offer a three-year repair warranty on their suits.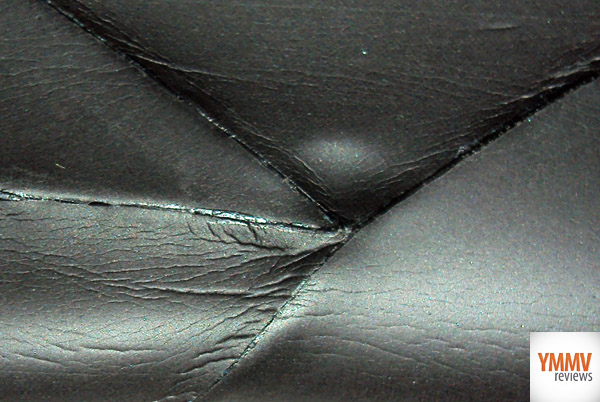 The E-Pulsor has a long zipper in the back to make it easier to get in and out; this is similar to other wetsuits I have used. At the top of the zipper is a Velcro flap to prevent the suit from opening up while swimming. The zipper itself is water-resistant and tested to be 93.75% waterproof so not much water will get in. Water is cold so you do not want it to exchange freely, that is why you are wearing a wetsuit in the first place. Under the zipper is a long flap to cover the zipper and insulate further from the cold water. At the bottom of the zipper are the G-Lock and a pull tab for easier zipping of the suit. The zipper has long cord attached to make it easy to grab and pull up or down depending on whether you are getting in or out of the suit. The E-Pulsor has been designed with a dynamic cut for comfort in the water; this includes scalloped wrists and ankles along with a shaped neck. The final feature worth noting on the suit is a section on the forearms that uses a rougher texture to get better grip in the water. Since this section will have a higher coefficient, the idea is you can generate more propulsion in the water with your arms and therefore, swim faster.
Looking at the E-Pulsor, there is not much information about the use of renewable resources. Neoprene Rubber to my knowledge is not renewable, and that makes up the bulk of the wetsuit. Camaro on their website also does not give any information about any initiative in regard to sustainability. The one thing that I do give them props for is manufacturing so close to their headquarters. This helps eliminate the endless shipping that is often done by other brands when items have to go back and forth several times in production.
Fit
Since Camaro is an Austrian company sizing the wetsuit is not quite the same as it is on American suits. This is generally not a big deal as you would normally try on wetsuits before purchasing them. For me, I was not able to do this. I rather had to check on availability and sent some measurements over to get one to review. I ended up testing a size large and would now say I am actually between a medium and medium tall. That is not that the large was poor fitting, but since the suit is made with so much stretch, I could have easily used a suit that fit just a little tighter in some areas. It was interesting to compare the E-Pulsor to my main wetsuit as I could get this suit on in a couple seconds where it was sweat-inducing work to get my other wetsuit on. Since there was so much stretch this also translated to an excellent range of motion and easy swimming.
The fit of the E-Pulsor can be broken down into three areas. Take in mind that I did try a suit one size bigger than ideal. Through the arms, The fit was really good in the forearms and loosened up slightly as it got up into the shoulder. Around the shoulder is where the suit had the most stretch with thinner neoprene for the motion of the swim stroke. The legs were a pretty good fit for me. As a former placekicker and soccer player I have a lot of my mass in my legs so the large wetsuit might have actually fitted them better than a medium would have. They were tight but not too tight. I do think they were still a bit looser than my other wetsuit is. The torso section is where I could feel the biggest difference between my regular suit and the E-Pulsor. There was definitely some extra room in the torso, enough so that water could get in there and site in my lower back area. When I would get out of the water, I could feel the water run down and out of my legs. If you couple this with the stretch of the suit overall I easily could have gone down a size in the torso.
Ribbed Forearm for traction in the Water
Having a large suit was not an issue as it fit well enough that I was completely comfortable and felt fast in the water. The only issue I had with the fit was in the armpit. I think it is because there was a little extra room that it rubbed a small section under my left arm and caused some irritation. I did not have an issue at Pacific Crest but could feel it on the bike and run of Rev3 Portland as the swim was longer. One really cool thing about Camaro is that with their high end wetsuits, you can custom order on to your size if you wish. I do not think I need this type of suit, but I am sure there are plenty out there that do.
Performance
I am not the fastest swimmer. Depending on the race I have tended to be just back from the middle of the pack, so I would say that I either am not a good tester of speed or a great tester of comfort as I am in my suit for a long time. The E-Pulsor felt fast and glided through the water well. It did not improve my times any but a suit really should not as you are wearing it for warmth. I am not sure if I would be able to notice any big differences in my speed either as I am not super consistent. The forearm panels were also hard to tell if they did much, I am sure they help a little but while swimming it was hard to quantify that help.
One thing I can say is that the suit is plenty warm. I did wonder that with all the thinner panels of neoprene if I would get cold when swimming in some of the cold water we have in our alpine lakes. I swam in water as cold as 58 degrees and as hot as 72 degrees and was comfortable in both. In the 58 degree water, I had really cold hands and feet but the rest of me felt great even with the thin panels. In the 72 degree water, it felt like I was swimming in bath water, and I actually liked the fact that water could get in my suit some as it helped regulate my temperature well.
This suit also has good flotation even with less 5mm neoprene than some other suits. There are panels strategically located on the suit like in the chest and thighs but not all over like some suits. I must admit that I am truly a sinker in the water and that my position is by far the most detrimental thing to my swimming speed. Melissa likes to say that I come up for air and then go back underwater for the rest of my strokes. I do believe a wetsuit should not be worn just for buoyancy but it sure is nice to have the help. I still would be slightly underwater with the suit, but I think my position was better than it is without. I know that I could swim with slightly less effort at the same speed with the suit on as I did not have to fight my position in the water as much.
Patches over Seam Connections
The E-Pulsor has a good closure system in the back and could be zipped up even on my own, which is not the case with my regular suit. This was nice because not all of my swims were with Melissa. When on my own I did not have to go looking for someone to lend me a hand. As for durability, the outer skin of the suit has held up great. I cannot think of any areas where the suit has gotten a tear in it. My other suit has a couple but this one has been great, and I have used it for over a dozen open water swims as well as packing it around. The one lace that has shown some wear is the inner fabric around the neck and Velcro area. The Velcro likes to stick to the inner fabric and pile it up a bit when you separate it. To eliminate this, I just need to remember to connect the Velcro as soon as possible when finished but even then it sometimes still grabs. This is a minor detail but something to note.
Overall
Overall, I have liked the Camaro E-Pulsor Wetsuit. It is funny that I had never heard of the brand, but now I have been seeing more and more of them at the races. The suit fits relatively well, and I am sure that can only be improved with the correct size. One thing that truly impresses me with the suit is the use of the panels to create a suit with so much stretch to it. This makes it easy to get on and off, great for mobility, and just plain comfortable as it is not as restricting. Since the suit uses Yamamoto #39 rubber you know you are getting excellent materials and then with their expertise and own factory the workmanship is also very good. If you are looking for a wetsuit, I would suggest giving them a look. Not all companies fit the same so it is definitely worth trying them on. When push comes to shove I think the Camaro E-Pulsor will surprise you as it did me. The E-Pulsor retails for $400, which is similar to other wetsuits of the same materials. As always, your mileage may vary.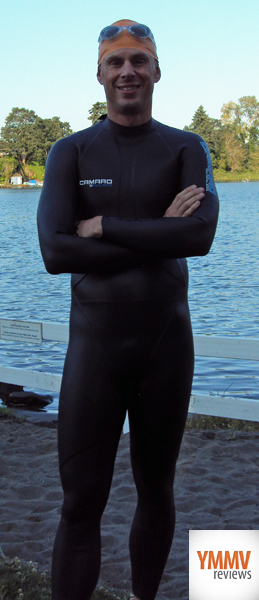 Pros
Great Stretch
Even with some Thinner Panels the Buoyancy was Good
Durable Outer Skin
Available in Custom
Forearm Panel Grips Water Better
Cons
Velcro Strap Grabs Inner Face Fabric
Hard to Find in the US