CycleOps SuperMagneto Pro Trainer
Manufacturer Description
SuperMagneto Pro combines versatility with an authentic road-like feel. Between seasons, use our SuperMagneto Pro to get in great shape—and stay that way. It offers the most versatility of our trainers. You can adjust the resistance curves to fit a conditioned rider or a less physically fit rider. Or modify the curves to fit a big or small rider. And if you plan to share a trainer with another rider, the SuperMagneto Pro is the right choice.
Features
Flexible Power Curve Technology for every rider type and ride type in one trainer. Four settings
o EASY SETTING - Warm up before you ride hard
o ROAD SETTING - Ride all day to build volume and build a sweat
o INTERVAL SETTING - Step up to a more intense workout
o MOUNTAIN SETTING - Take on the trainer's most challenging ride
Pre-Assembled, use your trainer right out of the box and store it in a small space
Unsurpassed Stability And Durability
Quick-Lock Cam Lever
Handy Single-Leg Leveling Adjustment
Convenient Skewer Clamp
Big Wheels, too, mount 29ers using two-position mounting bracket
Measured size – (28 in x 21.5 in x 15.7 in)
Measured weight – 23 pounds
Retail - $400
YMMV Review
If you are an avid cyclist, no matter where you live; there will be days that it just does not make sense to get out a ride. Whether it is the weather, darkness, or time, having a good trainer can help you get in a ride on a day you normally would not. A good trainer will also allow you to have much more structured workouts for those days you have specific needs.
CycleOps has been one of the top makers of trainers over the years. I actually have a set of rollers I bought a couple of years ago while I lived in Seattle. I was excited to get to review a good trainer, not just a basic one but one with better parts and features. Enter the Super Magneto Pro Trainer. Thanks to CycleOps for working with me on this review.
Testing
While I reviewed the trainer during the summer, I was surprised by how many days it just made more sense to ride inside. Some were due to darkness, other by thunderstorms, or even nearby forest fires. I either rode the trainer on my road bike or tri bike depending on the workout and the upcoming race. Most training sessions were between 1 – 1 ½ hours.
Design
The CycleOps SuperMagneto Pro is an innovative trainer that is made for beginners to professionals alike. To do this, they have made a trainer with an adjustable setting that can vary based on how fast you are riding. The four settings are:
1. Easy Setting: for warming up
2. Road Setting: ride all day to build volume and build a sweat
3. Interval Setting: step up to a more intense workout
4. Mountain Setting: Take on the trainer's most challenging ride
The trainer is able to change settings with a twist on the unit. Each setting allows the four rare-earth magnets to a different diameter away from the center based upon the setting and the centrifugal force as speed builds. The farther away from the center the higher the amount of resistance. These spring-loaded magnets create a more desirable progressive resistance power curve like you will feel on the road. The flywheel has been designed with more material on the outer surface. This allows the SuperMagneto Pro to deliver a smoother ride and more road-like feel. This precision based flywheel adds to the overall realism of the ride.
The SuperMagneto Pro is made to be very durable and stable. The platform is made slightly wider and with uncompromising materials. The unit comes pre-assembled right out of the box. Even though the trainer is made to be wide and stable, it still packs up relatively small for storage and transporting to your next race for warming up. The unit has a handy single-leg leveling adjustment so you can easily adjust the unit to ride on nearly any surface. This is important for warming up and cooling down before races as it is unlikely to be flat. One of the great things about this trainer is that it can support a wide range of wheels, not just 700c but 29ers too. There is a two position mounting bracket that can be used to fit the larger wheel sizes. It is suggested to use a smooth wheel, however, as the trainer will wear out a knobby tire rather quickly.
To install your bike onto the trainer it is surprisingly easy with the used of the quick-lock cam lever. This lever makes for a quick and easy install with a simple 90 degree turn of the handle. It clamps down on the tire easily and at the correct pressure. The unit also has an easy to use skewer clamp for locking the bike in place. You center the bike from one side only and then twist the other clamping mechanism into place to hold the wheel. There is also a secondary locking mechanism for added security. All these clamps are not only very functional but also solid. The whole unit is very well-made and has a robust feel to it. It can be collapsed down for transporting and storage by folding in the legs and the flywheel mechanism. While the unit is not lightweight, it is not as heavy as you might expect. I know that the appearance on a trainer should not be a big deal, but if you are going to leave it out in the house, then you want it to look hard core and this trainer certainly does. If you are new to using a trainer and what to do when riding one, CycleOps has included a Realrides Race Day DVD by Robbie Ventura with workouts to help you get going.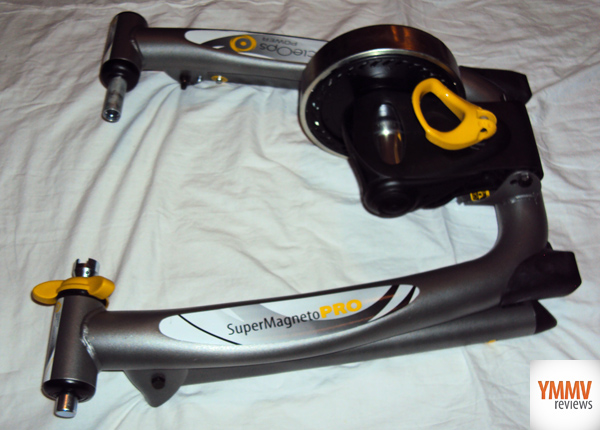 The specific materials that were used to build the unit out of were hard to come by. CycleOps also has very little information about it on the web. CycleOps is owned by the Saris Cycling Group, which is a very person oriented company. From what I can tell they try to have an excellent workplace, products made in the USA, and they support many cycling advocates around the country. So while I was not able to find much information on sustainability, at least the company makes products in the US and runs their company the right way.
Performance
This is where the CycleOps SuperMagneto Pro Trainer really excels. I do not have a ton of experience with trainers but enough to know that this is a good one. As compared to the others I have ridden, the SuperMagneto Pro is very solid and stable. Even when out of the saddle, you do not have to worry about falling over. The unit has also been very durable; the trainer is bomber. It has not shown any wear or tear since I started to use it. It has withstood everything I have thrown at it thus far and since it was pre assembled, I know that it was done right. All the clamps and moveable parts feel very robust and solid as well. Not only are they very good at doing what they are supposed to, but they feel strong and durable doing it.
Getting the trainer setup is really easy. All you have to do is unfold it, insert the bike in the skewer clamp and then tighten the flywheel to the tire with a 90 degree clamp. All this can be done in less than a minute on flat floors or slightly longer if you need to adjust the leg to accommodate for an uneven surface. Even this is done easily and quickly but depending on your expertise; it may take a couple of slight adjustments to get it perfectly level. This precision may depend on the rider and how level they want the trainer to be. The nice thing about the flywheel clamp is that it gets the correct pressure on the tire right away without having to readjust many times. The skewer clamp fits over the wheel skewer well and locks it in place with total confidence.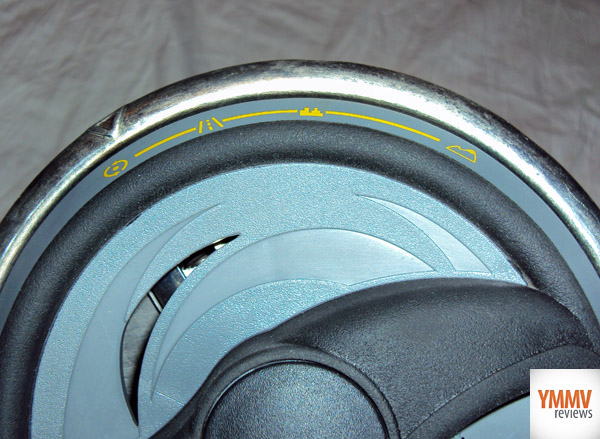 The SuperMagneto Pro packs down small for easy storage and transportation. I never needed to use it outside of the house but can say that it was easy to store away in our closet when not in use. The trainer is not lightweight at 23 pounds but based on other trainers I have used, it was lighter than expected and easy to move around. I really liked how easily it can be changed to fit bigger wheels. This is great if you're riding changes based on the season, you only need one trainer and can make it work for all your rides.
The nuts and bolts of the SuperMagneto Pro Trainer has to be the four resistance curves available in one trainer. With a twist, you can change between four different resistance curves depending on what you want from your workout. These curves are based on the how far away from the center the rare-earth magnets are and will vary based upon the speed you are riding. As you gain speed, you can hear the magnets moving out away from the center and therefore, making it hard on you. Looking at a graph of the power curves will show that they are fairly similar at low speeds and then will separate as speed increases. I myself am not a very strong rider, on a typical ride I will average around 18 miles per hour. For me, I was therefore not able to feel a big difference in the resistances, unless I was working really hard. At that point, I could tell the Interval and Mountain were significantly harder. So while I may not be able to take full value out of the adjustable settings now, the trainer still gives me a great workout and the stronger I get the more these curves will help me grow into a better rider. Especially if it gets me training when I might have instead skipped a workout.
I was impressed by how quiet the SuperMagneto Pro is. I have had other trainers that are downright noisy to ride but with this one I could easily watch TV or a movie and did not have to turn the volume up much higher than I normally listen to it if any at all. The SuperMagneto also is a very smooth trainer. The transition from fast to slow or slow to fast is done evenly just like you would find on the road. All the power curves had a very realistic feel to them. I never felt like there was a big jump from one speed to another, it just progressively got more difficult. I used the trainer with a block for my front tire, and I would suggest this if you are planning to use a trainer a lot. This allows you to adjust the angle of the bike according to what feel you want to have while riding. A higher front tire for climbing, lower for descending, and flat for flat riding. While I really liked having the four different power curves on the trainer, the biggest drawback I had was the fact that you have to get off the bike and stop the wheel in order to adjust to another setting. This of course breaks up the ride a bit, not a huge deal but can be somewhat annoying. I only found that I would change settings when I was transitioning from warm-up to my main set. I tended to spend most of my time in the Road and Interval settings as those fit my training best.
Overall
Overall, this is the best cycling trainer I have used thus far. The SuperMagneto is not only very well-made and durable but also is easy to use. Trainers in general are heavy and big but this one does feel lighter and easier to store away than most. If you are a racer than you probably already know of the importance of a trainer. Whether this is for warming up or cooling down at races or just needing to put in more mileage at home. For the rest of us, we may not have a lot of experience with a trainer. If you want to get better than I would definitely suggest one for two reasons. First is that you can ride you r trainer whenever you want, rain or shine, light or dark, fewer missed workouts for weather or even time as it takes much less time to get in a quality workout. Second is on a trainer you can do much more specific workouts and do not have all the other variables like cars, stoplights, flat tires, or annoying dogs that can disrupt a road ride. A trainer helps you get in better miles from a training standpoint.
There are a couple of downsides of trainers so it is important to not have it take away from getting out. For me, they can get boring, there is not scenery or changing terrain passing me by as I go. The other is that they are very stationary. On my regular rides, I am always changing my position in the saddle ever so slightly with varying terrain and bumps on the road. On the trainer, you have a tendency to stay in one position longer, and that can cause some discomfort. This by no means turns me away from using a trainer, it just explains why my workouts were only 1 ½ hours or less. Now after extolling the pros and cons of a trainer, I would suggest getting one, and this would be high on my list. Whether a beginner or a pro, the four resistance curves will meet you where you are at and help you improve. I will say that beginners will not find as much difference between the curves as a strong rider will but there is room to grow. The included DVD is a great place to start as it can definitely help you get motivated and get the most out of your workout. A pretty cool DVD for getting a great workout on a trainer. The CycleOps SuperMagneto Pro Trainer retails for $400 which I found to be about what I would expect. It is a great trainer with some cool features, and I feel like it is worth the money. As always, your mileage may vary.
Pros
Easy to Set Up Your Bike
Realistic Road Feel
4 Resistance Curves with Varying Difficulty
Adjustable Leg makes for Easy Leveling of the Trainer
Very Solid and Well made
Comes with Training DVD
Cons
Have to Stop to Change the Setting
Weaker Riders will Not Feel as much of a Difference Between Power Curves