Ortovox Merino Fleece Hoody
Manufacturer Description
Merino fleece is a revolution in merino wool. We combine a polyester outer skin with a 100% merino wool inner. The merino wool is directly woven together with the outer skin and brushed. The result is an unbelievably stretchy, highly resistant and enormously breathable product.

The hoody has an extremely broad range of use. The membrane-free material combination is highly breathable and therefore ideally suited for intensively active sports. The product also has a unique appearance and outstanding climate control, enabling it to cut an equally good figure as leisure wear.
The hoody has thumb loops for the optimum fit, a protective hood and a bonded pocket.
Features
Fabric - 61% Polyester, 27% wool, 4% elastane
Bonded pocket - 8.2 cm wide x 13.6 cm tall (3.2 in x 5.4 in)
Thumb loops
Flat lock Seams
Hood
Measured size medium
Weight – 484 g (17.1 oz)
Center back – 72.5 cm (28.5 in)
Pit to pit – 52.5 cm (20.7 in)
Sleeve length – 88.3 cm (34.8 in)
Retail - $150
YMMV Review
Ortovox is a company more known for their backcountry transceivers and snow products. Back in 1980, Ortovox came out with their first Avalanche Transceiver and have been making them ever since. Ortovox is a German company that has a presence worldwide as they were quick to branch out early in their development. In 2009 Ortovox started to make their Merino Wool Baselayers and built this into a full outerwear line in 2010. I had heard of Ortovox but had never seen any of their clothing. After taking a look at some of the pieces, I had to get my hands-on something to review. With a European look and styling I was excited to get a chance to review the Ortovox Merino Fleece Hoody.
Testing
I tested the Fleece Hoody across a variety of activities. I used it running, snowshoeing, skiing, hiking, and as casual wear. I tried to use it in all the ways I could think of: with a baselayer, against the skin, and layered under a shell.
Design
The Ortovox Merino Hoody has a bold look to it. While there are colors available that less flashy, the blue one I tested has white zippers and bright trim. I personally love the look of this top. The Merino Fleece is made of a mix of three materials. The inside of the hoody is a brushed merino that has a soft feel and a bit of loft to it. The outside material is a smooth polyester and elastane mix that provides durability, stretch, and wicking characteristics. The fleece hoody is made without the use of a membrane to keep it extremely breathable. It used three materials in order to get the best characteristics of each. If you would like to learn more about wool, click on the banner below to read the Knowledge Base article.
There is only one pocket on this midlayer, and at times I wish there were some hand warmer pockets. The chest pocket is laminated on and is made of a light stretchy material. Missing from this pocket is an audio out for use with an mp3 player. The hoody has a trim fit with a drop tail hem. The sleeves have thumb loops to add a little security and warmth when needed. The construction on this hoody seems very well done with good attention to detail.
Looking through the Ortovox website, I could not find much information on sustainability within the company practices or in the materials used. Wool itself is a renewable fabric, but I am not sure if they used other renewable resources or not. For this reason, I gave this a lower score for sustainability.
Fit
The Ortovox Merino Fleece Hoody is European Fit which I really like. I have always been a fan of the European Fit as it is generally tighter through the torso unlike the wider American fit. The Merino Fleece Hoody is a midlayer so it is important that it is not too tight where it cannot be worn over a baselayer and not too loose where it would be uncomfortable under a shell. Ortovox has done a good job getting the fit right. For me, it fits the shape of my body while allowing just a little room underneath. I have worn this over the top of a baselayer, and it fit great. It was not too snug and still maintained outstanding ease of movement. does not seem to be any excess fabric in this hoody. are no places where the fabric folds up or feels bulky. allows it to be layered underneath a shell very easily. I have been testing out waterproof shell jackets and they all layered well over this top.
The Merino Fleece Hoody has brushed merino wool on the inside. This wool is soft and allows the fabric to keep warm air next to the skin. I will touch on that below. All the seams have been flat locked to create less bulk and more comfort against the skin. By having flat seams the top sits flatter against the skin and will feel more comfortable when layering or wearing a pack. The seams have also been strategically placed to avoid areas that may cause comfort, for example, there are no seams on top of the shoulders. Behind the main zipper, there is a fabric backer which both helps resist the wind in addition to providing additional comfort against the skin. Over the top of the zipper, there is also a chin guard for further comfort.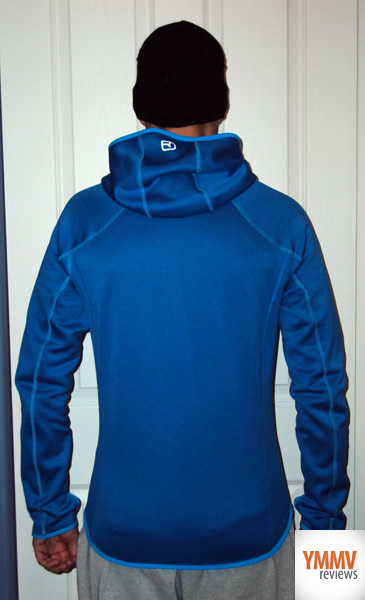 The main material contains a small amount of elastane to give the top stretch and unrestricted movement. All the fabric edges have been trimmed with soft polyester for comfort and a cool look. This trim is still low profile so it does not get in the way when wearing the thumb loops. The cuffs are sized about right for my wrists but there is no adjustability, which may make them too big or small for others. The hood on this is on the basic side. There is no adjustment points for the hood; it ends up fitting fairly snug without them, but you cannot change it if you wanted to. The torso length is decent as well; the hoody has a drop tail hem which gives it a bit more coverage in the back. For me, the overall fit of this top is nearly perfect.
Performance
The Ortovox Merino Fleece Hoody is a very versatile piece of clothing. It is made to be used for high intensity and stop and go activities. The fabric breathes really well, when wearing this top and just walking around I can feel the air move through the top. It has virtually no wind resistance. When wearing this hoody under a shell it does offer a good amount of warmth. There are definitely tops that offer more warmth for the weight than this does. Even though it breathes well I could work up a sweat while running. The fleece hoody does a great job at wicking moisture away from the skin, and either absorbs it within the wool or evaporates it off the outside. I did feel like the top was only average when it came to drying. Since the merino wool absorbs moisture it does take slightly longer to fully dry.
The Merino Fleece Hoody is by no means weather resistant. It can shed a light rain for a minute or two but anything more will get through. The top does keep you warmer than expected for the amount of breathability is has. The merino wool has been brushed to create a softer feel, and some loft near the skin. By being brushed it creates tiny air pockets in the merino wool. These air pockets are able to trap warm air near the skin to keep you warmer, especially when layered under a shell. The only drawback I have noticed with this top is the durability. Some of the trim have shown a little wear, mainly in high abrasion places like the palm of the hand. Furthermore, the face fabric will show a little piling where it gets rubbed. I am not sure what I was doing but both sides are piling on my hips. It might have been from a backpack hip belt but I am not sure.
Overall
Overall, I am a big fan of this top. I think it looks awesome and can be used for casual and technical use, which is a plus. For me, the fit is just about perfect. The hoody does have a couple of drawbacks; it has fewer pockets than I would like, no audio port in the chest pocket, and has shown some durability issues. This by no means has dampened my love for this top, and I would like to try more of their outerwear, especially the softshell and Swisswool pieces. This is where I must unfortunately say that I have heard that Ortovox is going to not offer their clothing in the US anymore. Those reading this in Europe will still have it available, but I might not be able to get my hands on any more of it, which is a bummer. I would highly recommend this hoody if you are a trimmer build like me. It s very versatile and can be used for many activities, which makes it a bit easier to justify the price. The Ortovox Merino Fleece Hoody retails for $150. You may just want to wear it every day. As always, your mileage may vary.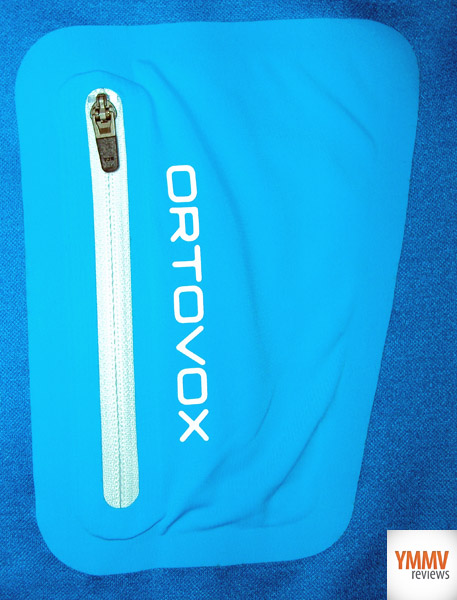 Pros
Awesome trim fit
Great contrasting colors
Wool against the skin for warmth and micro climate management
Flat locked seams that are strategically placed
Highly breathable
Cons
Only one pocket
No audio out of that one pocket
Showing some piling and wear